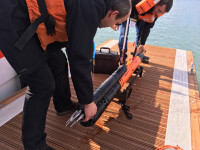 LAUV demo at Ocean Business 2017
The LAUV was showcased in 2017's Ocean Business exhibition in Southampton (4-6 April). Over the course of three days, we welcomed old and new friends to our stand, enjoyed the fair and activities and had the pleasure of co-organizing a dock-side demonstration together with Rockland Scientific (www.rocklandscientific.com). In the demonstration, a new variant of the LAUV, code-named LAMTOV (Light Autonomous Microstructure Turbulence Observation Vehicle) surveyed the pier for in-situ turbulence microstructure measurements.
LAMTOV is the result of the integration of Rockland's MicroRider sensor package.
Please contact us for more information or survey data.
---



Please
log in
to rate this post.